Our Plant
Lasered Components employ a wide range of the latest CNC laser cutting machines capable of processing a diverse range of materials in thicknesses ranging from 0.1mm to 25mm.
We are committed long-term users of Bystronic machines because of their first class performance, quality and reliability:
"We enjoy a fruitful relationship with Trumpf UK. Our operators are supremely trained in the running and programming of multi trumpf systems, which is why our regular investment in upgrading our Trumpf technology enables smooth production across the factory." – Lasered's MD, Kevin Willett
Our Current Laser Technology Includes:
---
Trumpf 5030 8KW TruDisc
3 X 8000 Kw 3000 x 1500 Sheet Capacity Trumpf 5030 8KW TruDisc Fibre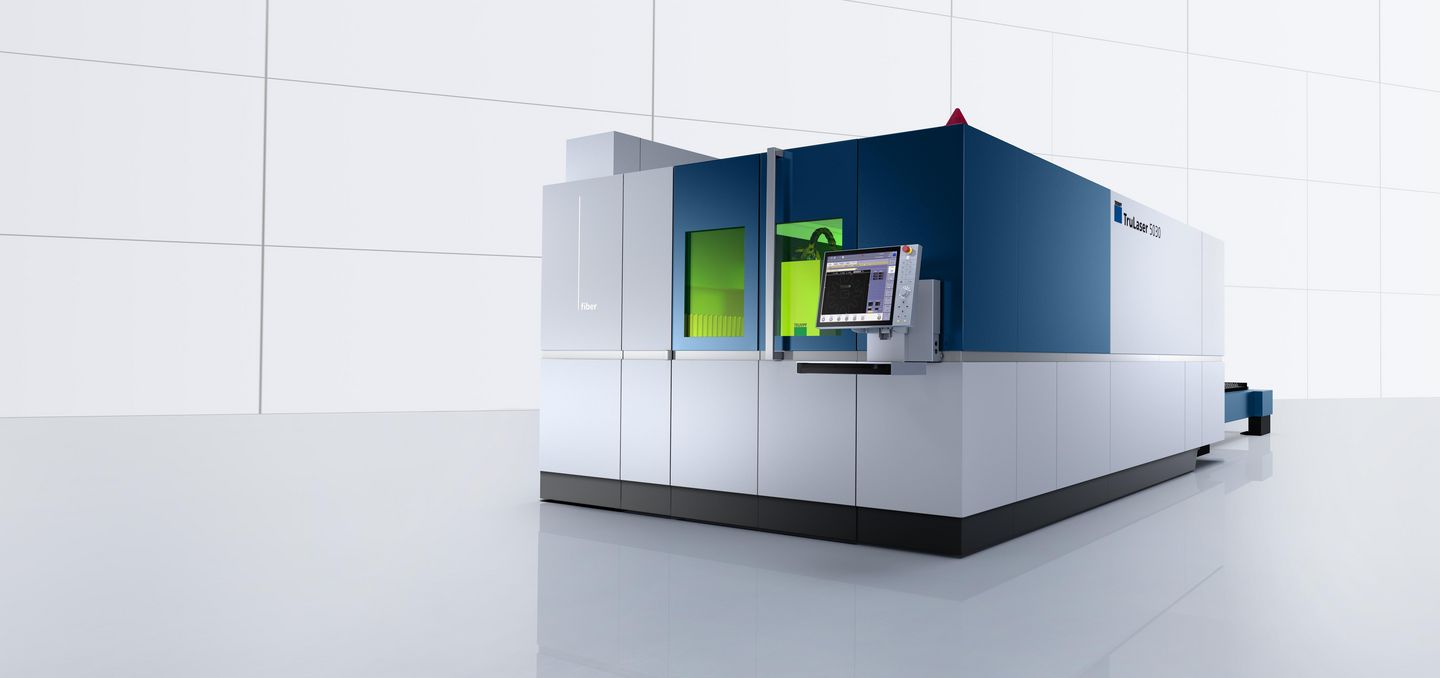 5030 8KW Features
3 x 1.5 m sheet metal can be processed quickly and economically
Cut every thickness and material that we offer
Intelligent machine monitoring and nozzle automation
High laser power for the economical processing of thick sheet metal
---
Bystronic BySprint Fibre Laser
Bystronic BySprint Fibre Laser CNC machine at Lasered Components
6000 Kw 3000 x 1500 Sheet Capacity BySprint Fiber Bystronic Laser
Fibre Laser technology is at the forefront of laser cutting technology and have embraced it here at Lasered Components. The lower running costs and increased speeds have allowed us to be even more competitive in the market with pricing and lead time.
BySprint Fibre Features
3 x 1.5 m sheet metal can be processed quickly and economically
Unparalleled high parts production and first-class cutting quality for thin to medium-thick sheet metal
The fiber laser's good energy efficiency means very low power consumption
Low operating costs since minimal energy is used and no laser gas is required
High flexibility. Even non-ferrous metals can be easily processed in excellent quality
Compact design means minimal floor space
See the BySprint in action:
Karl Willett, Lasered's Operations Director, has been swiftly won over by the competitive advantages of our new fibre laser:
"Once I had experienced for myself that fibre lasers are indeed faster and cheaper than CO2 lasers for thin sheet metal and that they cut very cleanly, I knew that this would provide the ideal solution to the thin material cutting orders that our customers are asking for – demands for sheet metal cut to thicknesses up to 5mm are commonplace here.
From an ops point of view it is also extremely economical in operation, allowing us to increase our productivity. For example, with a metal sheet thickness of 1mm, the system processes 3 times more cut parts than a CO2 laser cutting machine. The high energy efficiency means low power consumption which contributes to our environmental credentials too. Anything that cuts faster and saves energy is an obvious boon to our business."